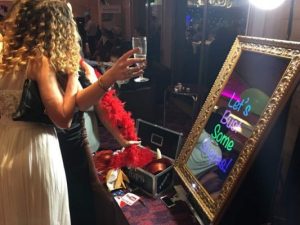 Our SoDiscos Magic Mirror is state of the art and impresses everywhere it goes. without doubt its the perfect solution to capturing those all-important wedding and party guest selfies!
Our Magic Mirror adds glamour and class to any event and creates a new interactive experience on your big day.
It packs a powerful punch to wow your guests and keep them talking about your event for weeks to come.
Impressive and attractive looks of the magic mirror are irresistible, it literally encourages guests to get involved and is a great opportunity for a 'photo bomb' or two The Magic Mirror also has a smaller footprint than the traditional photo booths so will often be preferred by venues.
During your photo session, the magic mirror photo booth audibly guides you and gives you compliments along the way.  There  is an option to sign the mirror before your photo is printed for you to share with your friends and family.
With all of our bookings we supply a well stocked box of props (maybe even two!)  Which contains all manner of fancy dress and funky accessories – hats, masks, wigs, inflatable guitars, funky glasses and more, all include.
We have Different Packages –  drop us an email for  and prices